You're ready to lead
as a sought-after coach, teacher, speaker, mindset influencer…
…with the industry's not-so-secret, best kept secret.
the subconscious mind
Your favorite top entrepreneurs understand the power of the subconscious mind
You're ready to transform who + where you are now
to who + where you want to be
reprogram yourself for Quantum Embodiment

With 5 transformational modalities,
not only will you experience this radical shift…
… You'll be able to easily guide others on this journey.
No matter your industry.
No matter your niche.
I believe and have seen what you'll learn (and become an expert in) work time and time again.
Your brain is literally programmed to make your life as easy as possible
Go deep to create instant shifts & new patterns.
Learn how to task your subconscious mind do a lot of the heavy lifting…
…and you'll be amazed at how quickly you'll see change.
a proven foundation for lasting results.
When you integrate these modalities into your business and add your unique "flavor" to them…
… what wouldn't be possible?
When you complete this program, you'll have the tools, techniques, and confidence you need to be a sought after Magnetic Coach™.
This is the Program for Coaches, Entrepreneurs, Influencers, and High Ability People Who Are Ready To Initiate Their Total Transformation Into Industry Leaders, Unlock Their Unending Potential, Create A Freedom Filled Abundant Life & Business, While Harnessing The Power of the Subconscious, Universal Energy, and Inherent Intuitive Abilities.
Become qualified to work with others in these 5 modalities
Life & Success Coaching

Neuro Linguistic Programing (NLP)

T.I.M.E. Techniques™

Emotional Freedom Techniques (EFT)

Clinical Hypnotherapy
effortlessly Create your own reality & guide others to do the same
Bridge the subconscious & conscious mind
Connect with your limitless power, potential, and energy
Here are the 5 Certifications you'll earn
upon completion of the program
1. Life & Success Coach Certification
Did you know that coaching is a multi-billion dollar industry? As one of the fastest growing industries the time is now to become a powerful Magnetic Coach™ and become known as a stand-out coach that facilitates lasting results.
Corporate professionals, new entrepreneurs, and influencers recognize that to get further, faster, having a coach is essential.
You'll learn exactly how to lead results-driven coaching sessions and programs, while getting paid easily and growing your 6-figure+ business.
2. Neuro-Linguistic Programming (NLP) Practitioner Certification
Learn how to use NLP tools to speak directly to the subconscious mind and understand how to initiate radical changes for increased motivation, confidence, success, positive habit changes, and more. Did you know that 99.996% of the decisions and actions you take are done subconsciously? With NLP, you'll gain a deeper understanding of how this works.
NLP is known as the users manual for the mind. Think of the brain as a computer, with NLP you'll be able to program it for desired results in your life and those of the people you work with. You're already using language (linguistics) every moment of your waking day, it's time to consciously use it to work for you.
3. T.I.M.E. Techniques™ Practitioner Certification
One of the most powerful NLP techniques is T.I.M.E. Techniques™. With this, you'll be able to release and eliminate the weight of negative emotions, anxiety, the effects of phobias, and limiting beliefs that are at the root of disempowerment.
Simply put, T.I.M.E. expands how you perceive and experience time. If you or your clients are finding yourself disempowered or stuck, you will uncover the root of the problem to heal and move forward into an empowered state. No matter if these persistent issues came from childhood, or even past lives… you'll be able to release their negative charge for an immediate energetic shift and release to experience empowerment now.
4. Emotional Freedom Techniques (EFT) Practitioner Certification
Energy tapping is a quick tool to balance and manage your energy. Negative emotions are felt when there is a disruption in the body's energy. Use EFT to restore balance to the body's energy, elevate your energetic vibration, and use your mind-body connection for healing.
This is a great tool to teach and use with clients, and use yourself, when little things pop up during the day that have a tendency to lead into a negative spiral of thoughts, feelings, and energy. This stops the spiral in its tracks, so you can reverse and remove the effects and restore beneficial energy flow.
According to the Tapping Solution Foundation, tapping has been shown to "… alleviate issues like depression, anxiety and insomnia, as well severe PTSD, physical pain, even illness."
Tapping uses meridian points on the body similar to acupuncture, in an accessible way that you can do anywhere & any time.
5. Clinical Hypnosis Practitioner Certification
In as little as one session, connect with the subconscious mind and establish new beliefs, habits, and thoughts without having to embark on a dreaded '30 days to change xyz.' Hypnosis can be used for practically anything, and has been proven to help clients quit smoking, lose weight, create positive habits, increase confidence, and attract abundance in all areas of life.
You'll learn how to easily create customized client hypnosis sessions, recorded hypnosis to help people beyond sessions, and how to use self-hypnosis.
Who is this certification for?
The Consultant
You want to help clients beyond what you have personal experience with + lead with confidence without being a human google for your clients (yeah, I said it).
The Change-maker
You're craving a shift out of what you're currently doing to purposefully shift into what you're being called to be doing with your life, your business, and clients.
The Coach
You crave to dig beneath the surface and create lasting life changing results for your clients that continue well beyond your time working with them.
The Truth Seeker
You are on a personal journey to understand yourself better, take back your power, and learn to intentionally create your life.
The Influencer
You're ready to guide 4 + 5 figure clients through life changing experiences + services while expanding your influence and impact.
The Rising Leader
You're a 6-figure business owner who craves more ease, profit$, transformation, and results for yourself and your clients.
If you can see it, dream it, or envision it, it's possible.
Possibilities require action to turn them into realities.
Hey, I'm your trainer, Liz.
I'm a certified Master Practitioner in Life & Success Coaching, NLP, T.I.M.E. Techniques, EFT, and Hypnotherapy.
I started my first business in 2012, mostly on accident.
Since then I've been growing my 6-figure business, very much on purpose.
Minus that time I thought I'd launch a ~small~ class on journaling, which accidentally on purpose turned into 130+ students in 30 days.
Along the way, there were 3 times when I knew I was meant to change something in my business…
…but I was scared that I would kill my business if I did.
Each time, the fear shifted from "what happens if I do?" to "what happens if I don't?"
1. When I stopped working in the wedding industry
2. When I stopped working in the design industry
3. When I embraced my true gifts and calling as a coach, teacher, speaker, and mindset influencer.
The first two shifts were about stopping what I no longer wanted to be doing.
The last shift was an awakening & aligning into what I was truly meant to be doing.
You're here because you are ready to change your life and the lives of others.
Learn what top leaders, coaches, influencers, and entrepreneurs are expertly trained in to unleash the fullest potential into real actions and achievements all propelled by mastery of understanding in using your subconscious and conscious mind for transformative success.
And oh, that fear I had about killing my business?
It was replaced with five-figure months + Clients and client successes like these…
Imagine being able to help your clients with limitations they've had for years…
And in mere minutes, the limitation is gone.
Here's how you get certified…
Attend a Luxe in-person training
or
complete your certification all online
Complete anywhere from the comfort of your home or office.
Available for completion in 2020
Austin, Texas
November 11-16, 2019
5 out of 15 spots remain available
Austin, TX
February 3-8, 2020
15 spots remain available
It's Easy!
Step One
Enroll in the Magnetic Coach™ certification.
Check your email for instant access to your bonuses.
Receive another email, asking if you are attending LIVE or completing ONLINE.
Reply to reserve your spot at the LIVE training of your choice.
LIVE training spots are first come, first serve.
Step Two
Receive your pre-study book and complete your pre-study Magnetic Coach™ certification training online.
Includes pre-study modules for Life & Success Coaching, NLP, T.I.M.E. Techniques, EFT, Clinical Hypnotherapy.
(Modules will be released beginning September 2019, books will be mailed in September as well)
Step Three : Live Training
Attend a LIVE Magnetic Coach™ certification training.
Leave with your completed certifications for Life & Success Coaching, NLP, T.I.M.E. Techniques, EFT, Clinical Hypnotherapy.
Step Three : Online Training
Complete all Magnetic Coach™ certification training online, at your own pace.
(Available in 2020, as these trainings will be recorded from the November live training)
Receive your certifications for Life & Success Coaching, NLP, T.I.M.E. Techniques, EFT, Clinical Hypnotherapy.
The Magnetic Coach™ Certification trainings officially begin SEPTEMBER 2019. You'll be getting instant access to juicy bonuses to hold you over until then! You will receive a printed and digital version of your study book. Additional Live Trainings will be held throughout 2020.
The life you experience, is the life you create.

Intuitive Business Bootcamp
$997+ Value
• Build your business foundation and success plan with The Align Method
• Create your Irresistible Offer to magnetize clients with ease, book them with a simple 3-step process, and launch without overwhelm
• Learn how to create content with purpose, aka, to get clients
• Learn strategies to sell without the ick factor and set yourself on track to reach 5-figure months minus the burnout
• Guest expert trainings on Instagram Stories that Deliver Results (Tyler McCall), 55 Email Scripts (Lesley Clavijo), Asana for the Entrepreneur (Haley Burkhead)
Get instant access to IBB, before the certification training begins in September.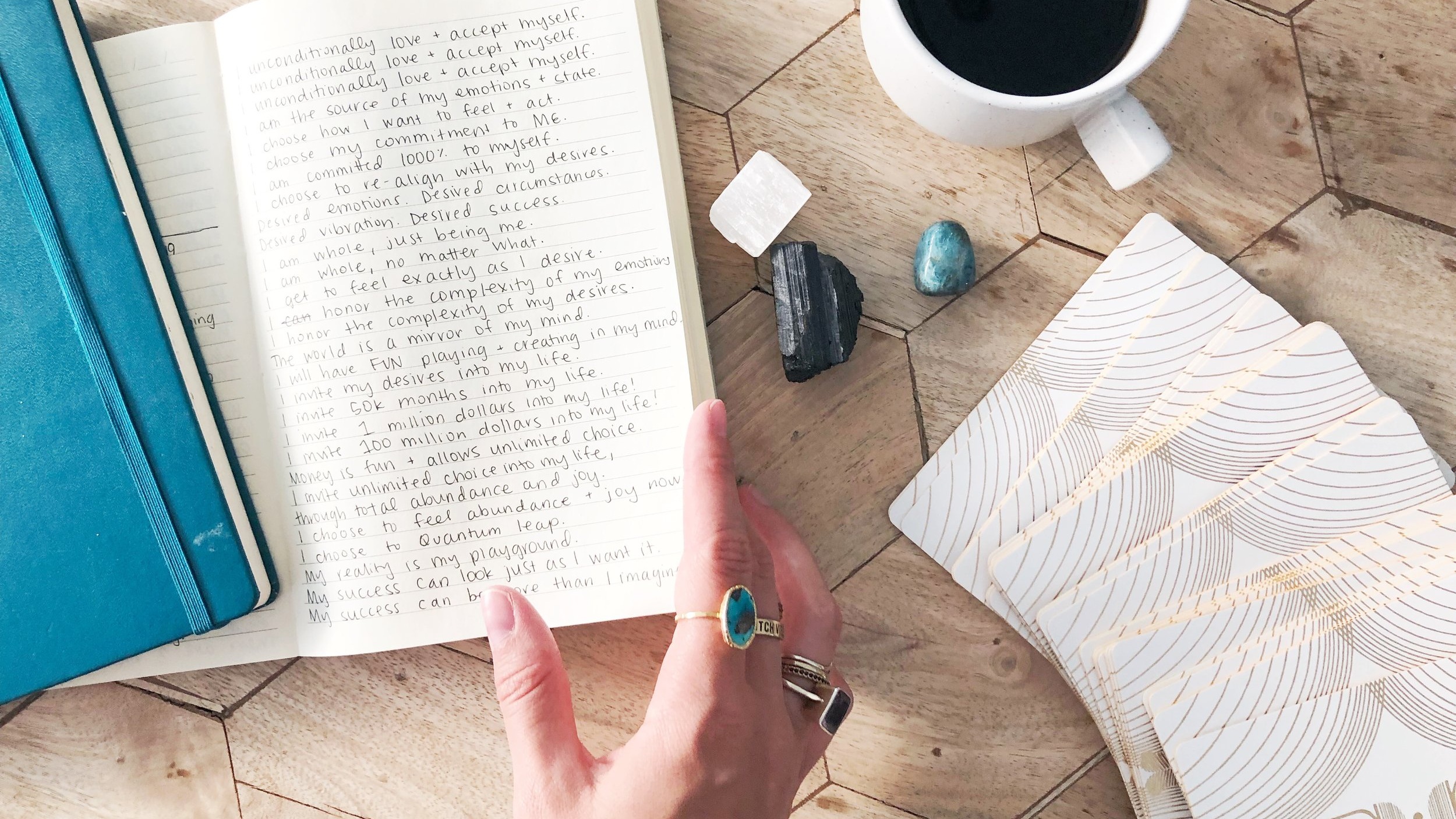 Transformational Journaling
$97 value!
Learn the 6 Methods of Transformational Journaling… one of the most powerful things that you can do to support your next-level and call in Quantum Shifts.
Students have: shifted limiting beliefs in a snap, manifested new homes, manifested clients, shifted into desired emotional states, connected with their intuition intentionally, and more!
Get instant access to Transformational Journaling, before the certification training begins in September.
Q: Can I take this completely online?
A: YES! You can complete this online and on your own schedule. Online completion will be available in early 2020, as the second half of your online training will be recorded and coming from the November 2019 LIVE in-person certification. When you join as an early bird and lock in this special rate, you'll be getting access to bonuses immediately AND you'll be getting your pre-study training beginning September 1st.


Q: What's the difference between the LIVE in-person certification and the ONLINE certification?
A: First thing first, everyone completes the first half of the certification training online. This is the pre-study. When you attend the LIVE in-person certification, you will attend each full days of certification training where you will go deeper in learning and practicing all modalities and techniques. At the end of the training, you will leave the LIVE in-person certification training fully certified. When you complete your certification online, you will learn from recordings of the live trainings. You will also record and submit videos of yourself doing the techniques you learn with another person. You'll get a handy checklist so you know exactly what's required! You can do this fully at your own pace.


Q: What can I expect from the LIVE training?
A: You will be spending the training time in a luxe location getting hands on experience and in-person training for your certification completion. You'll even be able to get testimonials from your fellow students who you train with! When you attend an in-person training, you will be responsible for all of your travel, accommodations, and meals. You'll get added to an event page to connect with other students, and if you like, arrange to share airbnbs or hotels. Full attendance is required for certification, and you'll get a detailed schedule so that you can plan your travel accordingly.
Q: If I'm coming to a LIVE in-person certification, will I get access to the online trainings?
A: YES! You will get lifetime access to the online portal where you will find your bonuses, trainings, coaching call recordings, and more resources! You'll also be receiving a physical copy and digital copy of the Magnetic Coach™ Manual Workbook for your pre-study, which you will be completing before the live in-person training.

Q: Is this only for Coaches?
A: If you are a person with a mind (hey, you are!), I believe you need this training. You were probably taught, like everyone is, that to change things in your life you need to put in hard work, a lot of time, and repetition to get anything to stick. And you have probably experienced, like everyone has, that this is extremely tiring, leading people to get stuck in old patterns, not achieving what they want, and can't make change. I want you to be that 1 person out of 1000 who can easily create new patterns, change for the better, and achieve what you desire while consistently improving your life and mindset day after day in a way that feels so simple it's like you're cheating in this game of life. This is what I am teaching you, the programming language of your mind that makes this transformation possible, now. Use what you learn whether you are a coach, entrepreneur, a speaker, author, and as you step into a leadership role to easily make huge shifts, reach your goals, and pass them for bigger greatness and empowerment.
Q: What kind of additional support will I get?
A: YES! You will have access to TWO levels of support. First, you will be getting monthly support as you work your way through your certification pre-study and certification completion. This support will help you specifically with your mindset and what you are learning. Second, when you complete your Magnetic Coach™ certification you will receive 90 days of complimentary access to coach support. This support will help you specifically as you are working with clients and growing your business. You will have the ability to extend your access to this support.
Q: Is this only for new coaches and entrepreneurs?
A: This program is for you if you want to improve your coaching abilities (even self-coaching!) and business at any level. When I began NLP, I had already been in business for 7 years and had been coaching for 6. I wanted to be able to help my clients even more (not just be a human Google) and to be able to help them get results that lasted well beyond our time together. Results that happen quickly and easily. The tools and techniques inside of these certifications are the key, and thats how I knew I needed them. If you are a new coach, or are wanting to bring it into your business in a new way, hold onto your seat! You'll be propelling yourself and your business forward with tools that make you stand out from today's growing online space, while having support every step of the way as you create a life and business that you love and is exactly what you want.
Q: What if I don't have time to do the course right now? I want to, but I'm busy!
A: If you're busy AF right now, then this is perfect for you. You can take this program on your own pace and grow your business without the added stress. You'll be getting templates, scripts, and book (yes, a book!) to save you time and effort rather than trying to figure everything out on your own or through countless Google rabbit holes. The best part? You'll have lifetime access to the content, online support, and you can watch and rewatch as much as you want and need with your lifetime access.
Q: Do you offer a payment plan?
A: YES. It's important to me to be able to bring you the training and tools you need to be successful, in a way that it affordable for you. When you click to join, you'll be able to check out with the payment plan that works best for you.
Q: Is this for women only?
A: NOPE. Both the live certifications and online certifications are open and inclusive to all. All that is required of you is to be respectful of your fellow students and trainers.
Q: I want to join, but I'm a little worried I'm not "spiritual" or "woo" enough for it.
A: What you learn and get certified in isn't "woo" at all. The material is based in proven modalities to connect the subconscious and conscious mind. You'll be able to use this easily for yourself and your clients, no matter your spiritual/religious affiliation or beliefs. You know me, I love sharing about spirituality and "woo" because it's such a big part of my life… so I'll likely bring that in as I naturally do. And when you get certified and work with clients as a Magnetic Coach™, you'll be able to connect your own stories and experiences.